Operations to protect birds of prey and storks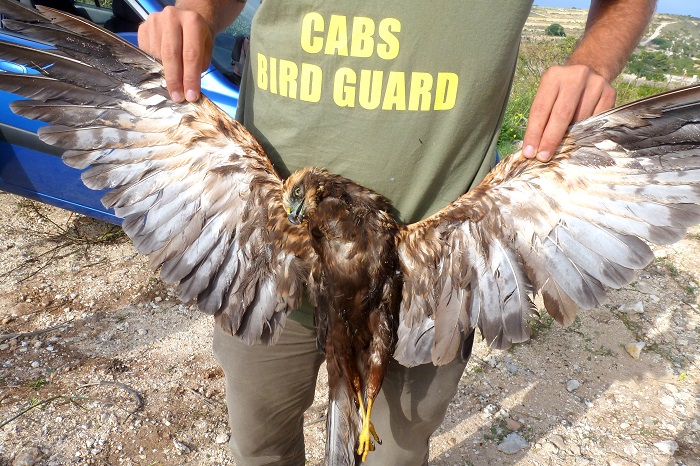 On Malta trophy hunting for birds of prey, storks, herons and other large birds continues even today. The birds end up as specimens in taxidermy collections - many collectors have hundreds of stuffed animals in their showcases, males, females, juveniles and various colour morphs of every species.
In spring and autumn the poachers mingle with the hunters who legally go hunting for turtle doves, quails, thrushes and various waders and water birds. At remote coastal areas, along well-known flight routes and around roosting sites, they lurk in waiting for the protected birds to arrive. Marsh and montagu harriers, honey buzzards and hobbies are often shot, but above all rare species such as pallid harriers, short-toed eagles, ospreys, black storks and flamingos often have little chance of leaving the island alive. When the coveted rarities arrive on the island, the information is quickly spread in closed groups and on social media, so that within a short time the poachers are out in force.
The Committee Against Bird Slaughter (CABS) has been running our bird camps on Malta since 2001. Each spring (April) and autumn (September) around 20 participants from all over Europe come together for 2-3 weeks on Malta and its small neighbouring island Gozo. In the morning and evening the CABS teams patrol the well-known passage and roosting sites and deter many poachers with our visible presence. Anyone who shoots at protected species risks being filmed by us. When crimes are observed, the committee teams call the environmental police (ALE), which regularly patrols the poaching hot spots, and assist the officers in their work.
Hunters convicted of poaching receive heavy fines and often lose their hunting licences for life, and even risk imprisonment. In cooperation with our partner association Birdlife Malta and the environmental police, we have been able to reduce the number of incidents in this way. However, remote areas in the west and south of the island and inaccessible areas around the airport are still a death trap for large birds.
Auch wenn der Vogelfang von Sing- und Watvögeln außerhalb des Zeitraums unserer großen Vogelschutzcamps seinen Höhepunkt hat, überführen wir auch im April und September jedes Jahr zahlreiche Wilderer mit Käfigfallen, Stell-, Schlag- und Bodennetzen oder illegalen Lockanlagen.
Die Einsätze gegen die Wilderei auf Malta sind nicht ungefährlich. Vor allem in Jahren, in denen Jagdgesetze verschärft worden sind, wurden unsere ehrenamtlichen Mitglieder Opfer von Übergriffen frustrierter Jäger. Meist bleibt es bei verbalen Attacken und Beschimpfungen, aber an abgelegenen Stellen wurden wir auch schon tätlich angegriffen und unsere Fahrzeuge schwer beschädigt. Solcher Gewalttaten nehmen aber zum Glück seit Jahren stetig ab.

Die Zahl der von uns während der Vogelschutzcamps beobachteten Fälle illegaler Jagd auf geschützte Vögel ist seit Jahren rückläufig. Zu Beginn unserer Aktionen wurden tausende Greifvögel geschossen – bei jedem Einsatz dokumentierten unsere Teams weit über 100 Fälle von Ab- und Beschuss geschützter Vögel und die Funde von Kadavern achtlos weggeworfener oder unter Steine versteckter Jagdopfer. Inzwischen haben sich die notorischen Wilderer in kleine Bereiche zurückgezogen, wo wir bei den Vogelschutzcamps nun gezielt Kontrollen durchführen.