Bird of prey poaching in Lebanon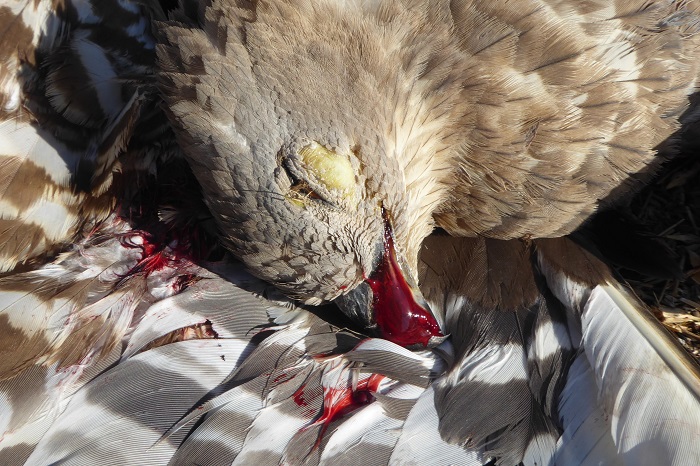 Although birds of prey are also strictly protected in Lebanon, they are one of the most popular targets of Lebanese poachers. Many shooters specifically go to the mountain ridges over which the large birds pass low overhead or to known roosting sites to target the migrating raptors. The perpetrators use high calibre rifles and long range shotguns to take out the passing birds. Some of the birds are partially eaten, breast meat is barbecued and the heart and livers are also considered a delicacy, but for the many birds that they are critically injured and fall further away, they are simply left for dead.
Anything that flies by is shot. In September, honey buzzards, levant sparrowhawks and hobbies, which still migrate across Lebanon in comparatively large numbers, are heavily affected. Later in the autumn, the lesser spotted eagles and the short-toed eagles come under fire. But also marsh, montagu's and pallid harriers; buzzards, ospreys, kites, eagles as well as griffon and Egyptian vultures are shot down as soon as they come within range.
The extent of bird of prey poaching in Lebanon is extremely alarming. Hundreds of thousands of protected birds are shot each year, including tens of thousands of honey buzzards and several thousand lesser spotted eagles. This is having a detrimental impact on the breeding populations of these species in in Europe and Western Asia. The lesser spotted eagle population is particularly affected and is continuing to decline as a direct result of poaching during migration.
The state wants to put an end to the bird of prey massacre with a somewhat unusual move: Lebanese poachers like to pose with their prey on social media - the bigger and more colourful the better, selfies with their kills or even photos of shot birds on the bonnets of SUVs. The new hunting law, passed in 2017, explicitly prohibits posing with shot birds in front of the camera - unique in the world.