Spring bird protection camps now complete
29.05.2023
This spring CABS conducted 16 bird protection camps and several small operations in Italy, Malta, Cyprus, Greece, Germany, France and Lebanon with around 80 volunteers from nine different countries. As a result of our actions, 84 poachers were convicted - 1,237 limesticks (see photo), snares and bird traps as well as 154 nets and 18 hunting weapons were confiscated by the police following our field investigations, and 274 birds were saved directly from traps and countless others therefore avoided being caught in the first place. Thanks to all participants and of course to our sponsors and donors, without whom these results would not have been possible!
Results of our spring bird protection camp in Lebanon.
23.05.2023
Our spring anti-poaching campaign in the Cedar State is also now complete. This year, for the first time, our teams documented the appalling scale of illegal stork shooting in northern Lebanon. In our experience, thousands of white storks are likely to be killed there for 'fun' during their migration home. In addition to the shootings, actions against bird trapping have led to the conviction of several bird trappers by the police and security forces. More than 650 limesticks, 37 nets and over 110 songbirds were confiscated or freed from traps during these operations. In total, 18 poachers were convicted as a direct result of our field investigations.
Find out more about our campaigns and operations in Lebanon here.
Anti-poaching operations in Greece now complete.
19.05.2023
This spring, CABS teams were active in Greece for the first time. Our focus was the holiday island of Zakynthos off the west coast of the Peloponnese, where there are numerous reports of illegal spring hunting of returning migratory birds. The result of the action is sobering: In April and May, hundreds of hunters shoot turtle doves and other protected species here, although hunting is also prohibited in Greece in spring. Three offenders were convicted by us together with the police.
The next operation on Zakynthos is planned for April 2024. Information on our new operation area can be found here.
Saving wildlife from deadly ground nets in Cyprus.
17.05.2023
Each year after the bird migration in Cyprus has subsided, CABS activists remain on the island to look for ground nets and report them to the municipal administrations, if necessary, we dismantle them ourselves and free trapped animals. Last year's announcement by the Ministry of Agriculture in Nicosia that it would take stronger action against the traps appears somewhat hollow given the evidence we're already finding this year. In just the last two weeks, CABS staff have already found more than three dozen dead animals on the edges of properties and cut free several blunt-nosed vipers, agamas and long-eared hedgehogs out of nets. These animals were able to be released unharmed.
Read more here.
Spring anti-poaching operations in southern Italy now complete.
15.05.2023
In recent weeks, four CABS teams have been active in the Mediterranean islands of Lazio and Ischia to catch bird trappers poaching returning songbirds. As a direct result of our field investigations, 9 people were convicted by the special units of the Italian police for bird trapping or illegal bird hunting. In the process, the officers confiscated 71 songbird traps, 1 set net, and 5 hunting weapons. One man has already been sentenced by a court to a suspended prison sentence and fined of 2300€ for weapons violations.
Find out more about our bird protection camps in Italy here.
Spring bird protection camp in Malta now complete.
12.05.2023
Since the beginning of March, 20 bird conservationists from four different countries have been on duty on the islands of Malta and Gozo, investigating illegal trapping of finches and other songbirds as well as safeguarding the passage of larger migratory birds, especially marsh and montagu's harriers and other raptors. Together with the Environment Protection Unit (EPU), our teams were able to catch and convict a total of 27 poachers targeting protecting species. In the process, 37 clap-nets, four cage traps, 15 electronic decoys and two shotguns were confiscated by the authorities. More than 100 freshly caught birds or those used as decoys were freed.
Read more about our bird protection camps in Malta here.
Successful action against illegal spring hunting in Italy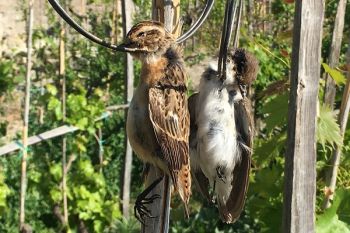 08.05.2023
On the mediterranean island of Ischia, two poachers have been arrested for illegally shooting and trapping migratory birds during the closed season. In both cases, police officers responded to reports from CABS whose members filmed both accused red-handed. One man was apprehended in a vineyard, where he was shooting at birds. Thanks to information provided by our team, the officers searched a shed which the man used as a hiding place for his gun. Two shotguns were found and confiscated. The man was already handed a fine of 2,300 Euros and also received a suspended jail sentence. In the second case, our team led the officers to a private garden used for the illegal trapping of endangered Whinchats. The poacher was caught while inspecting his trapping site. 31 clap traps were found and seized.

New operation - CABS starts bird protection camp in Greece
30.04.2023
The holiday island of Zakynthos, with its location off the west coast of Greece, is an important stepping stone for migratory birds. Reports about illegal spring hunting on the island have been circulating for quite some time, but concrete information was not available. Recently we started our first operation on Zakynthos and in just the first few days we have directly witnessed widespread and uncontrolled poaching - especially the endangered turtle dove is targeted. How the authorities could have missed such rampant illegal poaching until now is difficult to comprehend.
Our teams are now busy collecting information and evidence in an attempt to persuade police and hunting authorities of the urgent need to intervene.
Malta's spring hunting for Turtle Dove is officially open
17.04.2023
The opening of the Turtle dove hunting season has opened after a court ruling today to not accept a BirdLife Malta request to not open the season and instead granted Malta's hunters permission – flying in the face of the EC Birds Directive yet again. This means that the season is now open for both Quail (2400 birds) and Turtle Doves (1500 birds), with the season running until 30th April. Each bird taken has to be reported to the authorities and once the quota is reached the hunting season has to close. However, in the last two weeks alone, CABS teams have witnessed dozens of incidents of illegal Turtle Dove shooting and it is clear that a significant number of the quota has already been exhausted illegally.
Your donation makes the difference!
Your donation will enable us to fund our campaigns and bird protection camps throughout Europe, to keep up the fight for migratory birds. CABS is almost exclusively financed with private donations, from nature and animal lovers, as well as foundations and nature conservation associations. In order to stay independent, we do not receive public funds and we refuse business sponsorships. CABS is recognised as non-profit, thus, donations are tax-deductible. For a donation of 25 € or more, you will receive a donation receipt at the beginning of the following year.