Illegal raptor persecution in Germany
14.01.2021
New 'heat map' shows extent of illegal raptor persecution in Germany - 299 out of 401 districts and independent cities affected. Today CABS publish an updated map based on our latest data to illustrate incidents of raptor persecution across Germany. The map shows the distribution of 1,591 cases recorded by wildlife crime monitoring scheme between 2005 and 2021 at district level. These were mainly confirmed kills involving poison, traps and firearms, in which a total of 2,166 goshawks, buzzards, red kites, peregrine falcons and other birds of prey were killed. The map clearly shows that this is a nationwide problem. Since most acts are committed in remote locations or on private property, our experts assume that more than 90 % of all stalking cases go undetected.
You can find more data at www.greifvogelverfolgung.de or in our bird protection blog.
CABS patrol vehicle damaged by explosive device in Cyprus
10.01.2021
Last night, one of our cars on Cyprus was severely damaged by unknown persons with an explosive device attached to the windscreen. This incident is the latest in a series of violent attacks and death threats against our teams by criminal gangs. Previously, on Christmas Eve, a poacher known to the police punched a CABS staff member in the face and threatened the officers after his trapping site was found. In November, three masked trappers had already beaten one of our activists almost unconscious.
You can read the press release here.
Committee Against Bird Slaughter - Annual Report 2021
21.12.2021
This year, despite the pandemic, CABS conducted a total of 26 bird protection camps with more than 140 participants across seven countries. After evaluating all the outreaches, camps and actions, our teams dismantled and seized a total of 6151 illegal traps, 255 nets and 244 electronic decoys. 268 poachers (and bird traffickers) were prosecuted and over 2300 birds were freed unharmed back into the wild. With the activity report published today on our website, we give an overview of our activities in 2021: The record high number of poacher convictions compared to previous years is due on the one hand to the particularly high "success rate" of our teams in Malta and Cyprus this year, and on the other hand to the expansion of our actions in Spain.
A detailed summary of some of the other highlights of this year can be found in our report here.

Final report of the campaign in Spain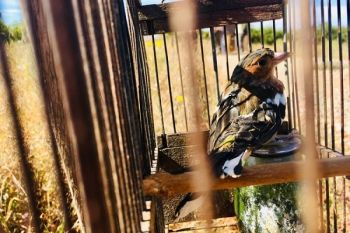 10.12.2021
This year's operations in Spain are now complete. Following extensive field investigations by our teams, the authorities in Catalonia, the Valencia region and the Strait of Gibraltar were able to convict a total of 23 poachers. During the autumn operations, 11 nets, 212 traps, 14 electronic decoys and almost 2800 gluesticks were confiscated. 167 live birds (mainly finches and warblers) and over 60 dead birds (mostly thrushes) were seized. A large part of the trapping sites we investigated were initially identified during our online bird conservation camp 'ORPHEUS'. The project was run by CABS during the first lockdown in 2020. Over 200 people from all over Europe had helped us to map out potential sites by analysing satellite images from Google Earth.
Find out more about our bird protection operations in Spain here.
Autumn bird protection camp in Cyprus now complete
06.12.2021
Our autumn bird protection camp in Cyprus has now ended. Unfortunately, this year illegal bird trapping with nets and limesticks as well as hunting with illegal electronic decoys was more widespread than ever before. Since the beginning of September, 15 nature lovers from all corners of Europe have been active in Cyprus to save as many birds as possible. Our teams have reported a total of 139 active trapping sites and 60 hunting sites with illegal poaching. A record number of 61 poachers were convicted (46 trappers and 15 for hunting protected species). In addition, 1893 limesticks, 110 nets, 107 electronic decoys were confiscated. In the process, 1359 birds were freed from traps and countless others were able to continue their migration to Africa. You can get an overview of our actions on the Mediterranean island here.
Special operation in the lagoons off Venice
28.11.2021
In recent days in the Po Delta, CABS staff together with Carabinieri officials have been cracking down on illegal mass shooting of wintering teals, geese and other waterfowl. A total of seven hunters were caught using electronic decoy callers and shooting at protected goose species despite bans. In addition to five shotguns and several hundred rounds of ammunition, 40 freshly shot teals and one greylag goose (a protected species in Italy) were seized. The Po Delta is one of the most important wintering areas for European waterfowl south of the Alps. In order to better protect the flocks resting there from poaching, CABS has been carrying out joint operations with the authorities for the past three years. Further actions are planned for December.
The international dimension of illegal bird hunting in Lebanon
15.11.2021
Trapping and shooting of in Lebanon costs the lives of millions of European migratory birds every year. To investigate which populations are particularly affected, biologists commissioned by the CABS have statistically analysed 570 recoveries of migratory birds ringed in Europe and killed in Lebanon. The data was provided by EURING, the umbrella organisation of all European ornithological stations. By far the most birds (68% of all finds) came from Finland, Sweden, Germany, Israel and the Czech Republic. In total, there were recoveries from 28 different countries. The study was published in the journal "Sandgrouse" of the Ornithological Society of the Near East (OSME) and can be downloaded here.
Bird protection camp in Brescia completed
07.11.2021
After 5 weeks, CABS' largest bird protection camp in the province of Brescia came to an end today. Since 2 October, 46 nature and animal lovers from Germany, Italy, Great Britain and Switzerland have been working hard in the mountains between Lake Garda and Lake Iseo. A total of 34 poachers were convicted. At 24 active trapping sites, the police were able to catch 15 bird trappers as a direct result of our field investigations -20 nets, 198 snap traps and 105 bow traps were confiscated. In addition, 19 hunters were caught illegally shooting protected species. Around 50 live decoy birds (mainly thrushes) and almost 240 shot birds were seized.
Read more about our bird protection campaigns and operations in Northern Italy here.
Italy must stop turtle dove hunting!
01.09.2021
Huge success in court: CABS, together with our Italian partner association LAC, took legal action against turtle dove hunting in the Veneto region and won - the hunting season is off the table. With the same result, our friends from LIPU and WWF have gone to court in all other regions with hunting derogations. Only Puglia opens hunting today - our lawyer is already working on appealing to the administrative court here as well.
Read more here.
Your donation makes the difference!
Your donation will enable us to fund our campaigns and bird protection camps throughout Europe, to keep up the fight for migratory birds. CABS is almost exclusively financed with private donations, from nature and animal lovers, as well as foundations and nature conservation associations. In order to stay independent, we do not receive public funds and we refuse business sponsorships. CABS is recognised as non-profit, thus, donations are tax-deductible. For a donation of 25 € or more, you will receive a donation receipt at the beginning of the following year.