CABS Annual Report 2020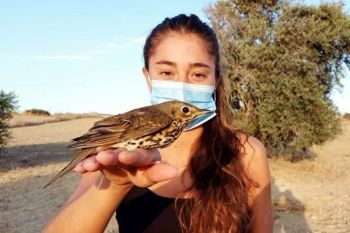 19.12.2020
CABS Annual Report 2020: 27 bird protection camps in 7 countries, 110 participants from all over Europe, 171 poachers caught, 3,942 bird traps, 238 nets and 177 illegal electronic decoy callers - these are the results of our bird protection camps of the last 12 months. In addition, there are victories against the online trade of traps and protected birds, actions against the illegal persecution of birds of prey in Germany and lobby work with the European Commission.
If you want a little more detail, you can find out a lot more about the year in review here.

Cyprus: 2,000 traps and nets seized
09.12.2020
At the beginning of December, this year's longest CABS bird protection camp ended after 12 weeks. Our teams collected 1,929 limesticks and dismantled 50 nets across a total of 114 active trapping sites. 102 illegal electronic decoys were also seized. As a result of our field investigations, the police and Game Wardens caught 44 poachers in the act - 31 for bird-trapping and 13 for illegal hunting. We were able to free 329 birds from traps and nets.
We have regularly reported on the autumn actions in our online diary, have a look ...
Finch trapping on Malta: Chaos and anarchy
21.10.2020
Malta has allowed the trapping of European-wide protected finches with nets – under highly questionable circumstances: The trappers should release the animals immediately instead of keeping them - as usual - as cage birds. Enforcement of this absurd regulation is not in sight and it's already apparent that many trappers do not follow the laws. Thus CABS has found that 69 sites were already active even before the start of the season. At the same time, 16 criminal proceedings against convicted bird poachers threaten to become time-barred.
You can find our press release here
Autumn camps: More than 1,000 traps collected
13.10.2020
CABS autumn operations against bird killing have been underway since the beginning of September - we have already collected over 1,100 bird traps, including 1,029 limesticks in Cyprus alone and about 50 bird traps in northern Italy. The statistics do not include 26 trapping nets - mainly in Malta and Lebanon. 44 poachers have been convicted thus far.
We write daily in our online-diary about the progress of our operations.

Bird cemetery discovered in Cyprus
01.10.2020
Participants of the CABS Bird Protection Camp in Cyprus have discovered hundreds of dead migratory birds on the coast south of Larnaca. In addition to dozens of bee-eaters, many swallows were found, as well as a night heron, a kestrel, a hoopoe and a European Roller. The birds were apparently shot down only as living targets - the entire area is littered with dead birds and shotgun shells. We have asked the police, who have so far been inactive, to start investigations.
You can find our press releas here.
Summer camps in Italy and Malta completed
08.09.2020
Our three summer camps are now complete: In Brescia, northern Italy we were able to convict four poachers in a two-week operation - one had set up snare traps for Pied Flycatchers, three were shooting protected songbirds before the hunting season began. In Calabria (southern Italy) we were able to convict two poachers hunting garden warblers, and on Malta, following an aerial survey, we found and reported a total of eight active wader trapping sites with clap-nets.
France prohibits bird trapping with limesticks
28.08.2020
Huge success in France: In Provence, SW France, until now, each autumn thrushes could be caught with limesticks in order to be able to use them as living decoys during hunting. The permission was justified under the guise of "old hunt-traditions". Around 7,000 trappers were allowed to catch 42,000 wild birds last year. After the EU Commission put massive pressure on the French government, the country finally caved in and prohibited the use of the brutal traps. The ban was preceded by a decade-long joint campaign by the French bird protection association LPO and CABS.

WATCH our anti-poaching operations in Lebanon
05.06.2020
In autumn 2019, a camera team followed the work of CABS and our partners SPNL, MESHC and ABCL in Lebanon for three weeks. The result is a 15-minute film that documents the unbelievable extent of poaching and for the first time gives insight into the life of the team members during our bird protection camp. In addition to a German and English version of the film, a French-Arabic version was also produced - especially for our target audience in Lebanon. The English version can be found here:

"The Bird Guards - Fighting against illegal bird poaching in Lebanon"
COVID-19 an CABS Bird Protection Camps
16.03.2020
COVID-19 Latest information: CABS poisition statement on the coronavirus pandemic and our strategy this spring. Large volunteer-based bird protection camps are suspended subject to further review in due course.

However, we will maintain a presence with our local staff, members and affiliates in our operational areas and teams will remain active within the framework of the circumstances made possible by the authorities.

Your donation makes the difference!
Your donation will enable us to fund our campaigns and bird protection camps throughout Europe, to keep up the fight for migratory birds. CABS is almost exclusively financed with private donations, from nature and animal lovers, as well as foundations and nature conservation associations. In order to stay independent, we do not receive public funds and we refuse business sponsorships. CABS is recognised as non-profit, thus, donations are tax-deductible. For a donation of 25 € or more, you will receive a donation receipt at the beginning of the following year.