Snake nets in Cyprus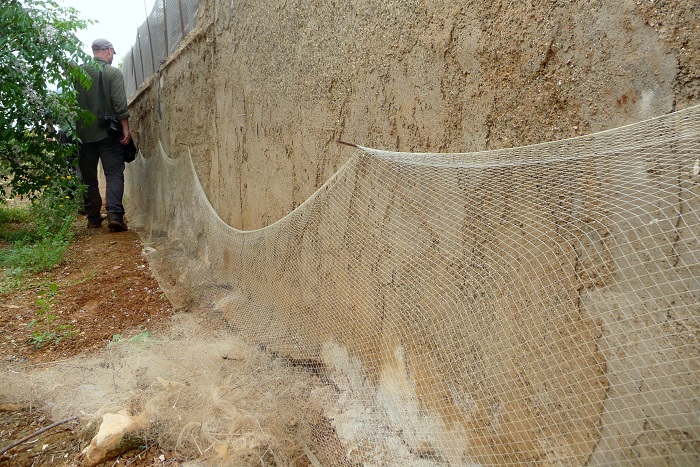 In Cyprus, farmers and landowners use a thoughtless method to keep snakes away from their property: They use damaged or worn nets, which are laid out as fine webs along the property boundaries or attached to fences and walls. The snakes seem to perceive the nets as an impassable barrier.
Unfortunately, snake nets are brutal death traps. Thousands of them litter the landscape, entangled into the vegetation and are practically invisible to animals of all kinds. Not only the unloved snakes get caught in them, but also other reptiles, such as the Hardun - a large agama species - and geckos die in the carelessly laid nets. Hedgehogs are also affected, which easily get entangled with their spines, as well as many ground dwelling birds. Skeletons of chukar partridges, nightingales, warblers and hoopoes are not uncommon. We estimate that tens of thousands of vertebrates die in snake nets every year.
Once the animals are captured, they barely have a chance. The nets usually lie beyond the property boundaries, so that the owners have no view of them. The tangled birds, hedgehogs and reptiles remain undiscovered and die a cruel death.
At our bird protection camps our teams often encounter these snake nets. Since their use is not prohibited, we cannot simply dismantle them. Therefore we control the nets on our way and free all animals we find. Every year we can save dozens of angry snakes, hardune and hedgehogs in this way. Unfortunately, considering the scale of the problem, it is only a drop in the ocean.
Unfortunately, the political situation in Cyprus is not conducive with addressing nature and animal welfare issues. Even in the case of bird-trapping, which is already banned, politicians and authorities find it very difficult to implement the rules and comply with the law. A ban on gillnets in Cyprus is therefore unfortunately a distant prospect.