Bird-trapping and spring hunting at Ponza and Palmarola
The small islands of Ponza and Palmarola lie far off the coast of the Lazio region. Many birds that migrate along the Italian coast come to rest here. This circumstance and the isolated location have made both islands an eldorado for poaching - at least until the Committee Against Bird Slaughter (CABS) bird protection camps started in the 1990s.
In April and May, when late migrant insectivores such as whinchats, redstarts, pied flycatchers, wheatears and nightingales arrive on their way to the breeding grounds in Italy, the bird trappers on Ponza and Palmarola set up small traps. The metal snap traps are baited with maggots and positioned in gardens and on coastal cliffs to catch and kill many birds. Some of them also use nets and cages. The songbirds are considered a regional delicacy, especially during the Easter season.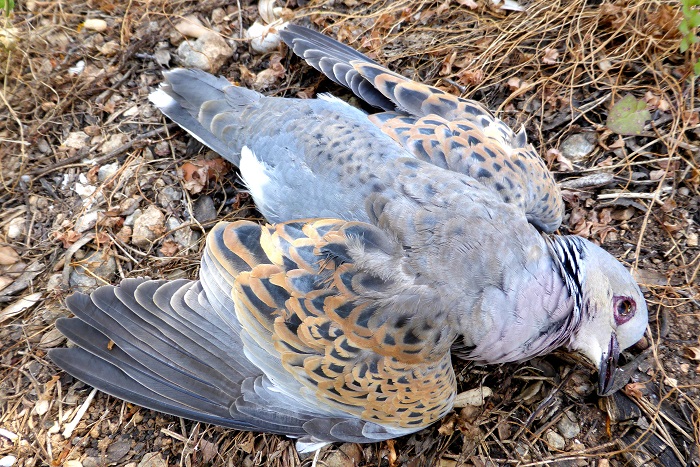 At the same time, hunters go after turtle doves and quails. Both species - endangered everywhere in the EU - have a regular hunting season in autumn, but in spring, when they return to their breeding grounds, hunting is strictly prohibited to allow the birds the chance to reproduce. Well hidden in small woods, cliffs or gardens, poachers wait for their opportunity. Once they have fired once or twice, they change their location so that they cannot be located. When hunting quails, electronic decoy callers are often used to attract birds at night.
The small population plays into the hands of the poachers. Nearly 3,300 people live on Ponza, Palmarola is even uninhabited. Here every stranger attracts attention, especially outside the holiday season. Even before crossing with the crossing with the ferry, travellers recognised as bird guards are reported to the poachers, which usually leads to a complete standstill of the hunting activity.
In order to get the situation under control, we have developed two strategies: At our bird protection camps on Ponza and Palamrola, we rely on a conspicuous and permanent presence as a deterrent on the one hand, and on the other small covert surveillance operations to bring the poachers to justice.