Poison bait for birds of prey
The use of prohibited insecticides in raptor persecution
The use of poison to target birds of prey is unfortunately still a widespread issue. Mostly different forbidden insecticides are used, such as the famous "mother-in-law poison" E605 (Parathion) and Carbofuran.
The laying out of meat residues and slaughterhouse waste is not prohibited in principle. These so-called "stink pits" are intended to lure wild boars and foxes to the hunters' shotguns. Therefore, there is always a high seat in the immediate vicinity of such bad smelling feeding places.
Care should be taken if one finds pigeons, rabbits, rabbits, pieces of meat or chicken eggs that have been laid individually outdoors - these could be poisonous bait. Small wild animals are cut open by the perpetrators and filled with poison. This is often present as granulate, is sometimes noticeably coloured and almost always has a strong chemical smell. The granulate can also be seen on laid out pieces of meat, e.g. offal. The so-called "poison eggs" are chicken eggs, which at first sight have an inconspicuous silicone plug - where the poison was injected. The main poisons used are insecticides, most of which are no longer available on the free market today.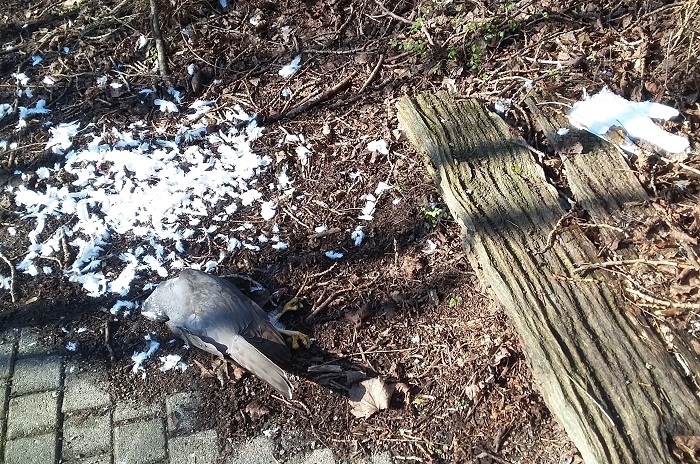 Not every bird of prey found dead outdoors in the field and forest rides is necessarily a criminal offence. As also applies to a dead rabbit or a pigeon. However, if you find a bird of prey in the immediate vicinity of which there is something that could be a poison bait, you should be cautious. The poisons work at different speeds depending on the group of substances and the dosage. Poisoned birds of prey have often grasped their talons conspicuously or show otherwise cramp-like twisted limbs. Often, they also still have a bait in the pharynx, that also often still protrudes from the beak. The presence of a slimy discharge from the beak can be a further indication.
The majority of incidents involving intentional raptor poisoning occur in and around intensive hunting areas of the countryside with high "small-game-share" - thus in a rather open landscape with fields and meadows. Such territories are often characterised by a high density of hunting towers and hides, game feedings stations and (legal) mammal traps, and pheasants are usually abundant.
Some poultry and pigeon fanciers also use poison to get rid of unwanted hawks or peregrine falcons. They use live bait pigeons - so-called "Kamikazee pigeons" - whose plumage is laced with highly toxic poison.
If you think you have found poison bait, please always call the police. Do not leave the baits unattended and be very careful when handling them - the poisons are often highly toxic and sometimes active through skin contact!