Bird hunting in Europe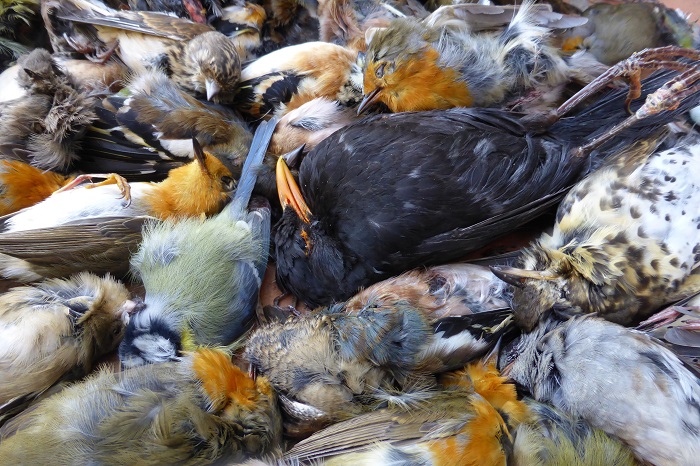 The EU allows the shooting of more than 52 million wild birds each year
Each year in the European Union, more than 52 million wild birds are legally shot by hunters, including numerous species that are severely endangered across the continent. This is the result of a CABS study which evaluated official hunting bag statistics from a total of 24 EU countries as well as Switzerland and Norway.
Most of the bag statistics are from the 2014/15 hunting season and when combined, the 'official' number of birds killed is at least 52 million. In addition, there is an unknown number of wildbirds that are killed each year in countries without evaluable data (Greece, the Netherlands, Ireland and the United Kingdom) and outside the study area in the Mediterranean or Northern Africa.
A large proportion of the wildbirds shot are migratory birds which are acutely endangered or threatened with extinction in several EU Member States. In Germany, for example, hundreds of thousands of strictly protected lapwings, snipes, turtle doves and skylarks are shot dead in France and southern Europe on their way to their wintering grounds in autumn. Every year, German and British hunters kill many thousands of woodcocks and arctic geese from Scandinavia and Eastern Europe.
The study lists in a detailed breakdown the annual shooting of 4,995,083 song thrush (huntable in 8 EU countries), 1,607,964 quail (huntable in 10 EU countries), 1,455,208 turtle dove (huntable in 6 EU countries), 898,958 skylark (huntable in 6 EU countries), 205,577 snipe (huntable in 16 EU countries) and 107,802 lapwing (huntable in 5 EU countries). The long-term effect of such high numbers is considered devastating by the authors. Between 1980 and 2013, at least 100 million turtle dove were legally killed by hunters in the EU. In the same period the European population of turtle dove decreased by -78%. In Germany, the species is on the Red List and is classified as "severely endangered".
The results are alarming and further evidence that hunting certain species endangers or even completely undermines the conservation efforts in other countries is overwhelming. The Committee Against Bird Slaughter (CABS) and the German Council for the Protection of Birds (DRV) are therefore calling on the EU Commission to finally implement Europe-wide hunting bans for endangered species.
A summary of the results can be found here.
The study is a follow-up to a survey carried out by CABS back in in 2005. You can find the results from 2005 report here.