Diary of CABS Bird Protection Camps, autumn 2020
During the migration period from early August to mid-November 2020, CABS bird protection camps will be running as usual in the poaching hotspots in the Mediterranean. Actions are taking place in Spain, Italy, Malta and Cyprus, as well as in Lebanon. With our diary we will provide regular updates about the progress of the actions.
25.09.2020, Malta
Update from Malta: In the last two days, our CABS teams have documented further kills of protected species in Malta - in addition to several honey buzzards, a highly endangered European Roller was also killed. The birds end up stuffed in the display cases of fanatical hunters and animal collectors. Due to the apparently (once again) out-of-control hunting season, we have asked the government in Valletta to impose a hunting ban for certain regions and to ensure a permanent police presence there. Most affected are the areas west of the international airport, which are becoming a mass grave for migratory birds. To underline our call, we have today again released a video of illegal shootings from this area:
https://www.youtube.com/watch?v=wPAuL0YpPjI&feature=youtu.be

24.09.2020, Malta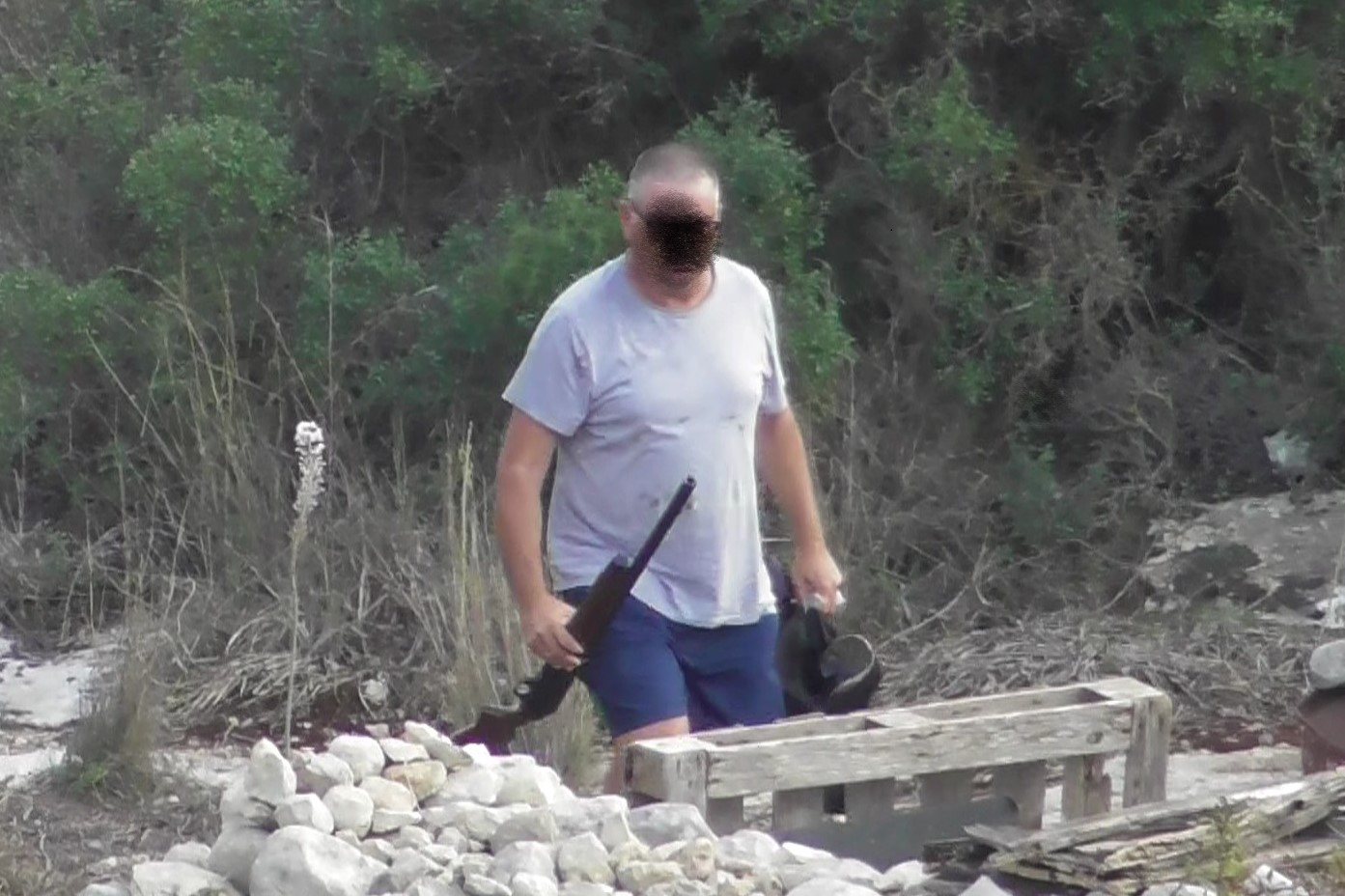 Honey buzzards killed in Malta: In recent days, participants in our ongoing bird protection camp in Malta have documented a number of serious poaching offences. Strictly protected honey buzzards were shot at several roosting sites around the international airport, killing at least six of the endangered migratory birds. Hunters were also observed at various locations who had illegally mounted silencers on their guns, were hunting in protected areas or were shooting at birds during curfew hours. At least two perpetrators have already been convicted - others are being investigated by the police after we were able to hand over videos to the authorities as evidence.
You can find our latest Press Release here.
We have uploaded a video of one of the honey buzzard shootings to Youtube.
23.09.2020, Brescia
Poacher No. 5 caught in Brescia: Even though our summer mission in the northern Italian mountains of Brescia is now over, the Carabinieri (police) were able to catch another bird trapper based on one of our field investigations. We reported the trapping site not far from Lake Iseo 2 weeks ago, but the culprit had not reappeared for several days, so that the officers only returned to conduct follow up spot checks. Now the man has been caught with a dozen snap traps for Pied Flycatcher and Common Redstart. It is poacher no. 5 of our summer operation. The two pictures are from this summer and from Brescia, but not from the current case.
21.09.2020, Lebanon
Another raptor massacre in Lebanon: Just a day into our joint bird protection camp in partnership with Society for the Protection of Nature in Lebanon and MESHC Anti-Poaching Unit; and the 'Bird Guard' team immediately discovered the remains of a recent massacre of protected migratory birds of prey. During a patrol yesterday in Egbhe, Keserwan district of Mount Lebanon (an area where we have routinely documented raptor massacres each autumn since our joint campaign began in 2017), the team found the remains of 16 dead honey buzzards, two lesser spotted eagles and a marsh harrier, all in the same spot. Some of the birds had been butchered with just the breast meat removed, whereas others had evidently been killed for no reason other than an easy target as they fly low overhead heading south in the mountain passes. Over the next few weeks during peak migration, the team will conduct field investigations in cooperation with pro-regulation hunters and the Lebanese Internal Security Forces to report and convict any poachers targeting protected species.
20.09.2020, Cyprus
Brutal bird-trapping with limesticks: The use of glue to catch wild birds is a particularly barbaric and cruel method. The glue is spread on horizontally positioned 'branches' - perfect sitting places for birds. The passing birds, weakened by their arduous journey, land on the inviting branches and instantly become stuck by their feet. In a panic, they tip forward and end up next with their wings and tail feathers on the glue until they become completely entangled. During our bird protection camp in Cyprus we have to deal with such finds every day - when we find the animals early enough, we can free them mostly unharmed. But when the birds have been hanging in the Mediterranean autumn sun for hours, they hardly have a chance to survive.
Since the start of our autumn operation just a fortnight ago, our teams have found and dismantled 642 such limesticks and caught 10 poachers. Thankfully, with a lot of effort and patience, we were able to clean this male blackcap up and release him after a night at our basecamp.
19.09.2020, Lebanon
Egyptian Vulture rescue in Lebanon: Yesterday our partners at Society for the Protection of Nature in Lebanon received an alert from the Bulgarian BirdLife partner (BSPB) that a juvenile Egyptian vulture fitted with a GPS tracker had stopped moving at around 4am in Douar, Lebanon. Members of the MESHC Anti-Poaching Unit were rapidly on the ground and with help from the Internal Security Forces, managed to recover the critically injured bird which was found in a farm. Subsequent X-ray revealed 13 shotgun pellets, a broken wing and a broken leg. The bird is now in a stable condition and being rehabilitated. A fantastic joint effort! Today also marks the beginning of our CABS/SPNL/MESHC bird protection camp in Lebanon.
Together with local authorities, our Lebanese 'Bird Guard' teams will be monitoring the situation closely in several known poaching hotspots over the coming weeks during the peak migration period.
17.09.2020, Cyprus
Yesterday morning, we almost succeeded in making a big "catch": One of our CABS teams currently active in south-eastern Cyprus, found two large mist nets along with electronic blackcap caller while investigating a long-known trapping site near Larnaca. Upon arrival, dozens of birds were found wriggling in the nets. The wardens from the Game and Fauna Service responded to our call, but unfortunately the poacher – a notorious criminal trapper – managed to escape in his car. He had already killed 57 birds – which were subsequently found in a bucket. Nevertheless, together with the authorities, we dismantled the nets and caller and managed to rescue and release a further 52 birds from the nets. Apart from warblers, he had also caught various shrikes and a wryneck. We will keep the site under close observation and try to ensure the poacher is brought to justice!
16.09.2020, France
France suspends turtle dove hunting! Paris seems to be making another dramatic U-turn in its hunting policy: Only a fortnight ago the use of limesticks for bird-trapping was banned, now the Supreme Administrative Court has also completely halted the hunting of turtledoves. European populations have plummeted by 30-49% in just the last 16 years - not least due to the completely unsustainable levels of hunting in France, Italy, Spain, Portugal, Cyprus, Malta, Greece, Austria and Bulgaria. In recent years, the CABS and our partners have used numerous campaigns and actions to draw attention in particular to the dramatic situation with the turtle dove – In our 2019 report on hunting bags statistics we conservatively estimate that between 1.3 to 2.2 million turtle dove are legally shot in Europe each year (around 1/6th of the entire breeding population). Just this spring we submitted a formal complaint against France to the EU Commission. Brussels has now taken the reins and is putting considerable pressure on EU Member States where endangered bird species are still being shot en masse. Unfortunately its estimated that between 7-10,000 turtle dove will have already been killed since the opening of the season at the end of August. However, this success cannot be overestimated, because France has so far been one of the major "hunting nations" that has blocked any progress in migratory bird protection. We now expect similar restrictions to those imposed on the turtledove to also be applied to species such as curlew and skylark.
14.09.2020, Lebanon
With the beginning of the autumn bird migration, the first evidence of the horrible massacres that Lebanese poachers cause among our European migratory birds is reaching us once again. This image from last week shows a group of men proudly posing for a "selfie" with over 500 freshly shot migratory birds. The prey are almost exclusively species that are strictly protected under law in Lebanon, such as swallows, orioles, wheatears, bee-eaters, wrynecks and red-backed shrikes. The photo was taken in the north and posted on Instagram on Friday. The police anti-poaching unit were immediately informed. At the same time, preparations are underway for our bird protection camp in the Lebanese Mountains, financed by CABS, which will start next week and run until the end of the month. The "Bird Guards" of our partner association Society for the Protection of Nature in Lebanon who we have worked with since 2017, will monitor important migration corridors and take action against poachers together with the authorities.
11.09.2020, Cyprus
Warbler hunter caught red-handed: Not far from Larnaca (Cyprus), a CABS team has discovered an illegal bird hunter. The man was hiding in the bushes with an electronic decoy caller in operation (the photo shows the device that was seized). With the loud blackcap calls he not only attracted the birds, but also our members, who immediately reported the incident to wardens from the Game and Fauna Service. The officials have convicted the perpetrator on the spot, the penalty is unfortunately only 500 €. With such small sums of money, we should not be surprised that illegal songbird hunting is on the increase in Cyprus ...
08.09.2020, Brescia (Italy)
Successful summer bird protection camp in Brescia: Over the course of the last 2 weeks, in the mountains of Northern Italy, five CABS teams have been deployed to monitor and investigate seasonal illegal bird killing in the alpine meadows. The bird guards from Italy and Germany found a dozen active or prepared trapping sites for songbirds in the mountain region between Lake Iseo and Lake Garda. Each September, bird poachers primarily target migrating pied flycatchers (see archive picture from 2019); redstarts and tree pipits are also on the seasonal "menu". In cooperation with the police (Carabinieri), four poachers were caught. One bird trapper had set up snap traps, three hunters were caught illegally hunting with their shotguns and using electronic decoy lures with flycatcher and pipit calls. Compared to previous years, the activity of poachers seems to be decreasing - a nice little success!
06.09.2020, Cyprus
Red-breasted flycatcher saved: Yesterday, a CABS team made a special find in Cyprus. They discovered a red-breasted flycatcher on a limestick near the southern Cypriot city of Ayia Napa. This rare migratory bird from Eastern Europe has only been observed on Cyprus a handful of times each year - this bird almost landed in the pan - together with a nightingale, which was also caught on one of the illegal traps. Both birds could be released unharmed, the trapper was convicted by officers from the Game Fund. Our bird protection camp on Cyprus has been quietly running for a week now, so far we have been able to catch three bird trappers and one hunter, 279 limesticks have been seized, as well as 6 electronic decoy callers. At 12 weeks, this camp is our longest this autumn and runs until November!
02.09.2020 Calabria (Italy)
First CABS summer mission in southern Italy completed: In Calabria there is a long tradition of hunting garden warblers.The birds gather there in order to strengthen themselves on ripe figs before the arduous flight over the Mediterranean and Sahara to their wintering grounds. Poachers lie in wait in the orchards with their guns and shoot the small birds at close range. So far we had only heard rumors about this form of poaching and this August we had our first case and prosecution. Together with the Carabinieri Forestale we were able to convict two perpetrators with a total of 26 shot birds. Shotguns and electronic decoys were seized. In future we intend to conduct a regular camp here in late summer.
28.08.2020, France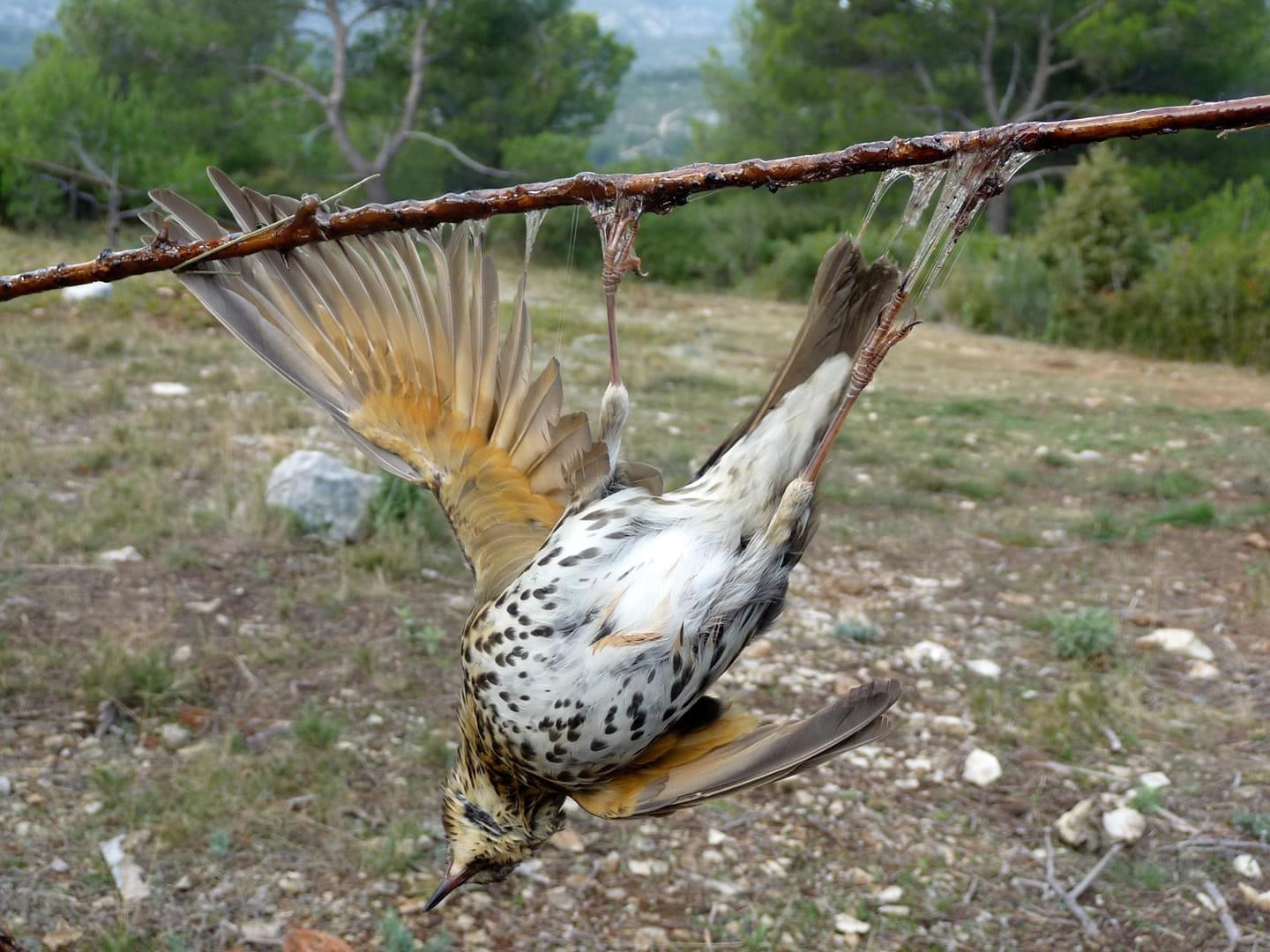 Huge success in France: Macron government bans bird-trapping with limesticks! Until now, in five departments of Provence, contrary to the rules of the EU Birds Directive, thrushes were allowed to be caught with limesticks in order to cage and use them as live decoys for songbird hunting. The derogation was justified on the grounds of "old hunting traditions". Approximately 7,000 hunters were allowed to trap 42,000 wild birds last year. After the EU Commission had put huge pressure on France, the country finally caved in yesterday and prohibited the use of the cruel traps. It is expected that the suspension will become a permanent indefinitely. The ban was preceded by a decade-long campaign by the French bird protection association LPO and CABS. CABS teams conducted field investigations on trapping sites and collected data on the abuses which include the illegal capture and killing of many 'non target' protected songbird species, which ultimately convinced the authorities and politicians. A great success for our campaign!
26.08.2020, Malta
Illegal wader trapping on Malta: earlier this week, our CABS staff brought eight serious cases of poaching to the attention of the Maltese police. The cases involve eight huge trapping installations for curlews, plovers and other early migrating waders, which are caught with huge clap-nets at artificial ponds set up especially for bird-trapping. In order to identify the sites, CABS staff conducted an aerial survey last week and photographed all active trapping sites. The photos show the set clap-nets, freshly water-filled ponds and numerous plastic decoys used to lure the birds. Especially sad: Half of the sites reported were also illegally operated in July 2019, August 2018 and July 2017 and reported to the authorities with the exact GPS coordinates. "The fact that in four years the police have not succeeded in shutting down these criminals and their trapping facilities shows the state of the species protection enforcement on Malta", criticizes CABS chairman Heinz Schwarze. CABS teams will continue to search for illegal trapping sites on Malta over the coming weeks and will also document and report cases of illegal shooting from 1st September - the start of the hunting season.
25.08.2020, Brescia (Italy)
CABS bird protection camp in the Southern Alps is underway: In the mountains of the northern Italian province of Brescia, four CABS teams are currently conducting field investigations against illegal bird killing. In the region, early migrating songbirds are now being caught and killed with snap traps. The birds are considered by some as a traditional delicacy. A good dozen trapping sites are currently under observation. Especially from the mountains, the poachers can be well observed on the lower situated alpine meadows. The evidence gathered will be reported to the authorities to help prosecute the perpetrators.
22.08.2020 - Start of CABS large Bird Protection Camps!
CABS autumn bird protection camps get underway: Bird migration is picking up - time for our field operations and 'Bird Guard' camps to get started. Today will see the start of summer activities in the mountains of northern Italy and on the coast south of Naples, where poachers are using traps and shotguns to poach early migrating songbirds. At the beginning of September we will continue with our large bird protection camp in Cyprus (investigations against limesticks and nets for catching songbirds) and the camp in Malta (protecting migrating waders and birds of prey), before the actions in Lebanon and northern Italy will continue at the beginning of autumn. Later in the year, it will also go to eastern Spain, the Italian island of Sardinia and again to Malta. We keep our fingers crossed for all the teams!